Overview
The no show report is used to list bookings completed as a 'no show' but where the driver was well away from the pickup address at the time. The report is intended to be used to check for cases where a driver has not gone to the pickup location.
Note however that there are many cases where there is a reasonable explanation. The most common is that the driver passed the booking on to another driver.
See also: Pickup Location Report and Resubmit Report.
Information required
Select the fleet (1) and the vehicle(s) to be included in the report (2). To choose more than one vehicle click on 'Select Multiple Vehicles' from the Select Vehicle(s) drop-down list, then mark the cars to be included.
Set the maximum distance from the pickup point allowed (metres) (3). Any booking with the car further away from the pickup location when the no show button was used will be listed in the report.
Finally select a start and end date/time for the report (4).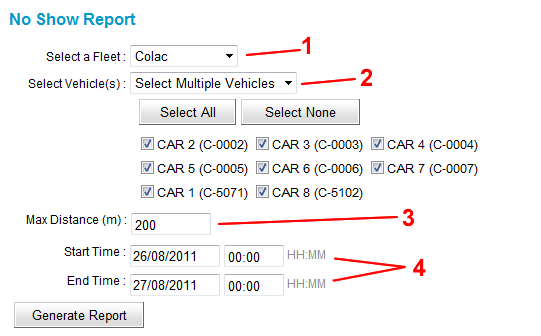 Report
The report lists:
The date/time the booking was started.
The vehicle.
The booking number. Click on the link to see the booking details report for that booking.
The first pickup address for the booking.
The distance from the pickup address at the time the 'no show' was reported.

Note: the report uses the learnt location for the pickup address. In some cases the learnt address may not be accurate.