Overview
The resubmit report is used to list bookings resubmitted by a driver. The report is intended to be used to check for drivers that are resubmitting an unusually high number of jobs.
See also: Pickup Location Report and No Show Report.
Information required
Select the fleet (1) and the vehicle(s) to be included in the report (2). To choose more than one vehicle click on 'Select Multiple Vehicles' from the Select Vehicle(s) drop-down list, then mark the cars to be included.
Finally select a start and end date/time for the report (3).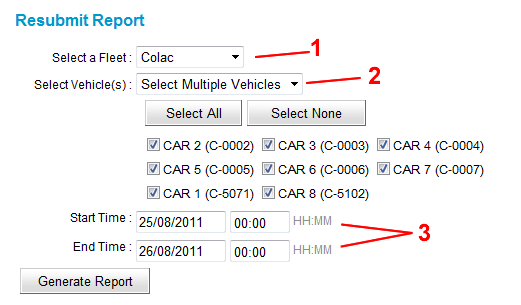 Report
The report lists:
The date/time the booking was resubmitted.
The booking number. Click on the link (4) to see the booking details report for that booking.
The vehicle.
The driver.
The reason given for the resubmission. The possible reasons are set on the Fleet Management page.