SmartMove has its own configurable in-built meter called a soft meter.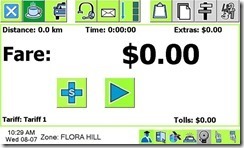 This meter is easily configured and is used in place of a stand-alone meter. It is also able to be used as a back-up for cars who experience issues with their stand-alone meter. Some cars use this meter just for trips outside of the normal operating area.
The soft meter uses the cars GPS position to calculate the distance travelled and therefore it can only be used when there is an available GPS signal.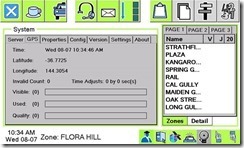 To access the soft meter press

and then the 'open meter'

button.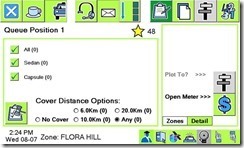 There is also a shortcut located on the status panel.

Selecting this icon

will give you direct access to the soft meter.
The soft meter will now display.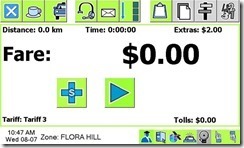 Press the

button if you need to change the tariff.
The tariffs are configured on the Fleet Management website and need to be set prior to the soft-meter being used in the car.
SmartMove will automatically choose one of the pre-set tariffs based on the time, day and the number of passengers however, you are able to manually change this to a more suitable pre-set tariff if required.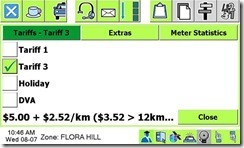 Selecting the extras button will allow you to add any additional fees such as an airport levy or a booking fee. Simply select the plus button to add or the minus button to remove an extra.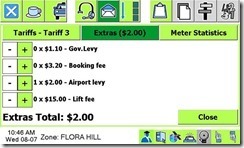 The Meter statistics button gives a brief overview of the current meter use.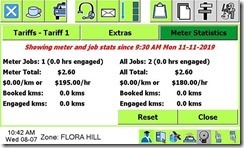 Press the

button to start the meter running. The fare begins accumulating based on the chosen tariff.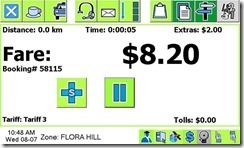 If the

button is pressed, the fare stops counting up until the play button is pressed again.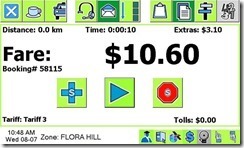 To end the job press the 'End job'

button. This will stop the meter and the fare payment screen will automatically appear.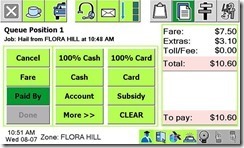 Record the fare payment as usual.